Note: This is a REVIEW. Please contact the restaurant directly for reservations. Requests for reservations in comments will be deleted without notice. If you want me to make the reservation for you my service charge will be RM50/head payable in advance. No negotiations.
Not very long after I first visited Tupai Tupai Restaurant Cafe, I returned to try their Seafood Steamboat Buffet which is available only at night. The buffet is RM28 per Adult and RM15 for children. Prices are nett.
You have a choice of chicken stock, tom yam stock or a 2-in-1. We opted for the 2-in-1 steamboat set. I must say that there was a fairly good variety of raw food available – fish, large prawns, freshwater prawns and chicken wings, a few varieties of mushroom, various fish balls, lots of vegetables and even noodles. There is a small cooked food section with fried rice, fried noodles, pasta with sauce and a variety of fresh fruit, tapai and ice cream for dessert.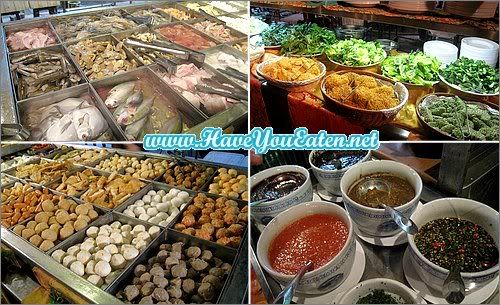 You can't quite argue that its not value for money if you can eat a lot!
I'm told by dinner buddy #1 the prawns were very fresh but the chicken wings did have a bit of a smell. I'm not sure if it was just that day or if its always like that. Fish was fine and I must commend Tupai Tupai for offering a very fresh selection of vegetables. Their baby kailan was delectable! Dinner buddy #2 loved the baby flower kailan.
I got there early at about 7pm but the crowds only really started coming in after 8+pm.
Do be warned though that no drinks are included in the buffet. If you ask for water, you will be charged RM0.60 a glass. Bit sneaky I felt since the tomyam soup was rather salty.
I'm not sure how to direct you there because its easy to miss. Best call them up and see if they can do it. Its located near Jalan Dewan Bahasa opposite the MAA Building. As you come to the fork take the road on the right leading towards Jalan Bukit Petaling, and immediately keep right – Tupai Tupai Restaurant has free parking and its immediately around the corner so make sure you don't miss it!
Tupai-Tupai Restaurant & Cafe
551A Jalan Bukit Petaling,
50460 Kuala Lumpur, Malaysia
Tel: +603 2143 2525
Tupai-Tupai Restaurant Cafe is Halal.