I'd heard of Tupai-tupai Restaurant and Cafe for a long time now and have even passed it many times. Its located so near my office and yet I'd never been. So, it was time to remedy that!
Tupai Tupai Restaurant & Cafe is a restaurant in a Malay Kampung style setting that serves predominantly Malay food. They also have Chinese and Western dishes and reviews I'd read online say they are pretty good. However, I was there to sample their "nasi lauk" or rice with dishes.
Lunch buddy had rice with chicken cooked with chilli, daging masak kicap (beef slices cooked with soy sauce) and four angled beans cooked with belacan and dried shrimp.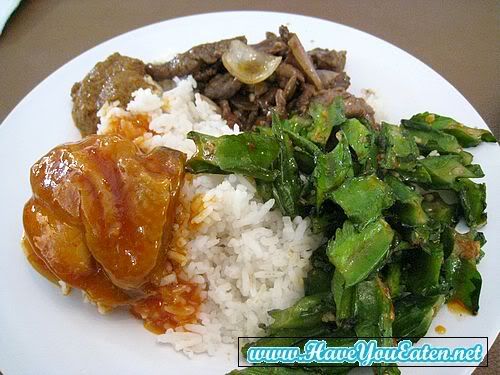 I had rice with Pari masak Asam Pedas (Sting Ray in Spicy Sour sauce), Kangkung Belacan and Beans with chilli and dried shrimp.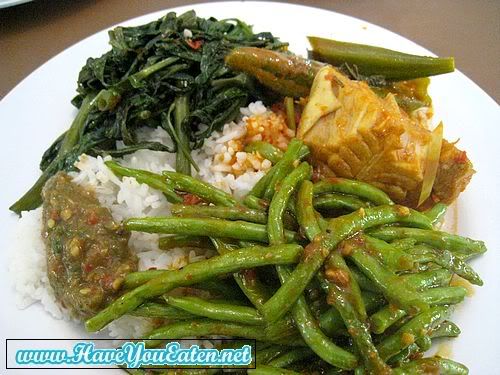 We had a Ikan Bakar (Kembung) to share which was tasty especially with the air asam that came with it. I prefer cencaru. The fish was quite pricey at RM7 a fish.
To wash it down, I ordered a young coconut which I was pleased to note was a local coconut. I prefer the local coconuts to the fragrant Thai coconuts (RM5.50)
All in all, lunch cost RM26 which is pricey but for the amount we had, I think its ok-lah! I took a look at the menu. You can order dishes to have with rice too. Prices start at RM13 for a small portion. I'm not sure how big or small the portion sizes are but if I go back I'll be sure to report.
At night, they have a steamboat buffet for RM28 per person. I might try that some day because I saw a lot of fish on the menu! Will report back if I do try.
I'm not sure how to direct you there because its easy to miss. Best call them up and see if they can do it. Its located near Jalan Dewan Bahasa opposite the MAA Building. As you come to the fork take the road on the right leading towards Jalan Bukit Petaling, and immediately keep right – Tupai Tupai Restaurant has free parking and its immediately around the corner so make sure you don't miss it!
Tupai-Tupai Restaurant & Cafe
551A Jalan Bukit Petaling,
50460 Kuala Lumpur, Malaysia
Tel: +603 2143 2525
NOTE: This is a  REVIEW. Please contact the restaurant directly for reservations. If you will like me to handle reservations. There will be a RM50/head charge.