Ole Ole Bali is a restaurant I keep going to every time I'm at Solaris Mont Kiara. Its no wonder, because the food is delicious and portions are huge! Be ready to share unless you can put away a lot of food else the serving sizes here are too big to finish on your own.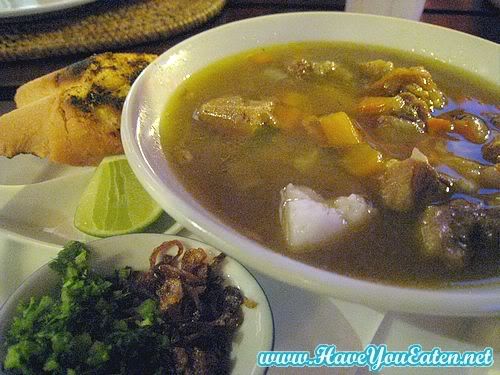 I tried the Sup Buntut (RM14) once before. It did not give a good impression because the soup was only warm not hot, and it was very salty. It is essentially ox tail soup in a clear soup base and there is some nasi impit in it. Its a pretty large bowl for a starter too.
Thankfully, the Ole Ole Trio (RM38) starter more than made up for a disappointing start.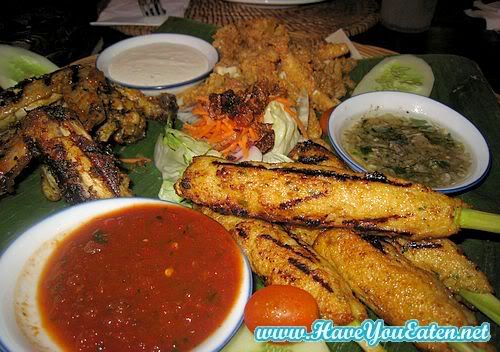 The is large and can easily be shared. It comprises of grilled mince meat wrapped around lemongrass skewers (Sate Lilit), Grilled Chicken Wings and Fried Calamari (cumi-cumi goreng) served with salad and dips. I recommend asking for extra helpings of the sambal – its delicious!
Another starter I particularly enjoy is the Grilled Squid Salad (RM14). A hefty portion of salad served with generous portions of grilled squid makes for a delicious starter. The sauce is an interesting sauce with sesame seed  and the squeeze of lime is very refreshing. I love this one – I could eat it all by myself! But then I'd have no space left to eat anything else hehe…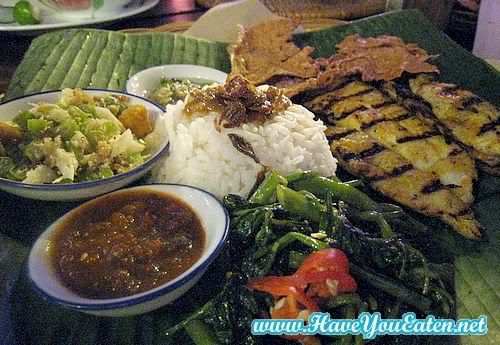 For mains, we ordered a Rice with BBQ Fish set (RM26). You get about 2-3 slices of grilled dory fish, flavoured rice, kang kung belacan andlots of condiments and keropok. We also had a Nasi Ayam Goreng, which had nasi kunyit with half a fried spring chicken and vegetables and condiments (RM25). Both portions are large enough to share unless you are a big eater.
A snack food I enjoyed a couple trips back later was the Cumi Cumi Goreng - fried calamari with fried potatoes. Very sinful but very delicious. Perfect as snacks with drinks.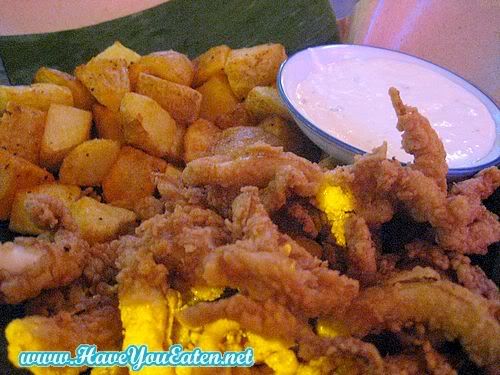 When I'm here, I also like their Barley with Lime. Ordered by the jug (RM18) it serves about 6-7 glasses. Its thick and refreshing especially if you have been eating oily food like the cumi cumi goreng hehe…
I enjoy my visits to Ole Ole Bali and you have a choice of sitting outside under the umbrellas or inside where its air-conditioned. When we go in a group of about 5 persons, we usually order 2 starters and 2 main courses and sometimes even have enough food to take away so unless everyone in the group is a big eater, I'd recommend ordering one dish less than the number of people in the group and share.
I've only been to Ole Ole Bali @ Solaris Mont Kiara but I've seen one at Sunway Pyramid too. I guess you could just go to whichever is nearer for you