It has been a while since I had Lam Mee which is noodles of your choice drenched with a thick flavoursome sauce and garnished with prawns and pork or chicken slices. One place which has been famous for its Lam Mee for many years is May King Restaurant at Jalan Yew, Pudu, Kuala Lumpur. This air-conditioned restaurant is located near the famous Pudu open air wet market under the flyover – opposite of Wenworth Hotel.
The area is a little dingy looking, but where better to find good food eh?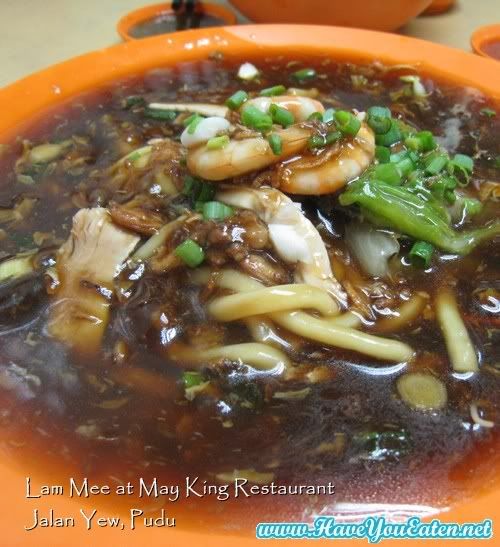 I first ate the Lam Mee at May King a few years ago. Perhaps because I had been told about how good it was, I was expecting something spectacular – and was disappointed. So, recently,when I was in the area, I decided to give it another go.
You have a choice of noodles from yellow mee, mee hoon and kuey teow or you can ask for a mix. They also serve curry mee and clear soup, but what we are there for is the Lam Mee (RM5.50) so that is what I had. It comes in a plate despite there being so much gravy poured over the noodles.
There were a couple of fairly large shelled prawns and slices of lean pork and shredded chicken. Vegetables was scalded bean sprouts. The test is really in the thick sauce – is it flavoursome or bland? I found is a little too salty actually without too much taste. Then again, some others might actually like how it tastes because I didn't see anyone complaining!

As an accompaniment to the noodles, we also ordered some meat balls and fish balls (RM0.80 each) and a couple of fried sui kow dumplings (RM1 each).
I rather enjoyed these and found the fish balls nice and springy without being too hard or too soft. The meat balls although a tad salty were tasty but the sui kow dumplings were a little oily. We also ordered stuffed tofu (RM1.20) which I felt was too expensive for very small pieces.
The noodles portions are medium-large which sort of justifies the higher than usual price. Also, take into account the fact that the restaurant is air-conditioned and it is actually a decent price. Parking in the area is horrible. You'd have to try to find parking under the flyover and jostle with the market traders and those doing their marketing for a spot. Also, it is packed at lunch time, so time your visit carefully or risk having to wait for a table. If it is too crowded and you are just one or two, they might ask you to share a table with others. Its quite common to have this happen.
Lam Mee is not really my thing so I don't see myself coming to eat at May King more than once or twice a year, but if you enjoy it, then this is probably one of the better places to go. Also, read Masak-Masak's review on this same restaurant written 2 years ago – prices have since increased due to inflation!
Pink Parisian [rating:3/5] for taste
Pink Parisian [rating:3/5] for price