Having had to weather lots of late nights and stress recently, plus crazy weather that blows hot one day and cold the next, I knew it was time to boil some cooling herbal drink to cool down the "heatiness" of the body. I usually boil the Lo Han Guo and Dong Gua herbal drink which is easy and fuss free.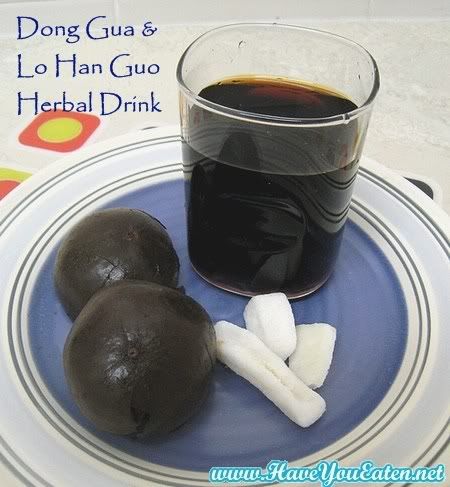 Lo Han Guo or luohanguo (Siraitia grosvenorii) is a fruit that is traditionally used in Chinese herbal medicine. You might see the dried fruits in medicine shops. They are about the size of an orange with dark smooth skin that varies in colour from a dark green-brown to brown-black. The dried fruit has a fragile shell that can be broken and the inside is full of seeds.
Dong gua or Winter Melon is from the Winter Melon fruit. For purposes of this herbal drink recipe, I will use the Dong Gua sweets which are winter melon strips coated with sugar. They can be eaten straight out of the pack (and can sometimes be found as a traditional snack during the Chinese New Year) but are usually used in the boiling of herbal drinks to sweeten the drink.
Here is my recipe for the Dong Gua & Lo Han Guo herbal drink that anyone can enjoy.
You need:
2 medium-large sized dried lo han guo fruit cracked open
10 strips of candied dong gua
2 litres of water
How to:
Wash the lo han guo fruit and crack it open. Place into a pot.
Add water into the pot and put to boil.
When the water is boiling, add in the candied dong gua.
Cover and turn down the heat and simmer for at least 1 hour or up to 1.5 hours until you can smell the thick sweet smell of the lo han guo.
When done, turn off the fire and leave the drink to cool. You can enjoy the drink hot or cold.