I was recently invited to lunch at the C. Club at Pavilion Kuala Lumpur. Nope, it was not for purposes of doing a review – heaven knows how many other more suitable food bloggers there are out there! I was at the Pavilion for another event and it included lunch
The C Club is basically a food cum jewellery shopping experience since it is owned by The Carat Club – the jewellery store for the uninitiated. Upstairs is the restaurant with a fusion dining experience while downstairs is the store where you can adjourn to pick up your jewellery pieces after eating. We had a special menu prepared by the chef but I flipped through the actual menu nonetheless.
You would be forgiven for thinking that the booklet on the table is a catalog. It is presented in the same manner as that of a product catalog or magazine with only a few pages dedicated to the menu. I felt it was slightly disconcerting.
Here's what I like about the C Club. The rolls that are served to you before your meal are piping hot! So hot you can burn your fingers if you aren't careful. Delicious spread with butter or dipped in olive oil and balsamic vinegar! I started off my lunch with a Cream of Forest Mushroom with Crouton and Truffle chantily.
The soup was chunky and tasty with forest mushrooms and a delicate flavour of truffle. I polished off every drop because I love fresh mushroom soup! Excellent with hot rolls. Mmm….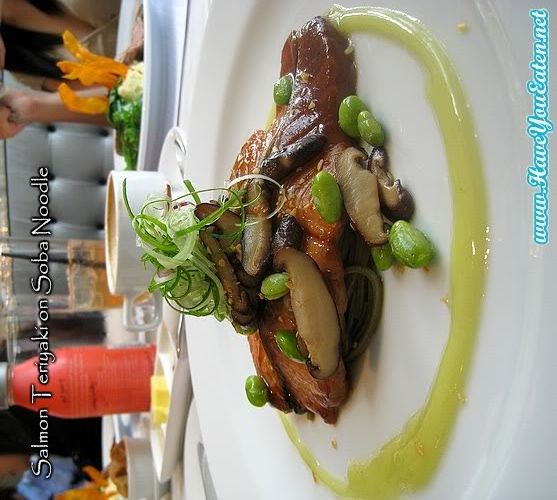 For my main course, I had a Teriyaki Salmon on sesame soba noodle, wokfried shitake mushrooms, edamame and wasabi aioli. I am not usually a fan of salmon but this was done to perfection! The salmon was sliced thin and cooked just right with teriyaki sauce. It was a little sweet but the flavour was nicely balanced out with the soba noodle and wasabi aioli. Again, the plate was polished by the time the server came to retrieve it.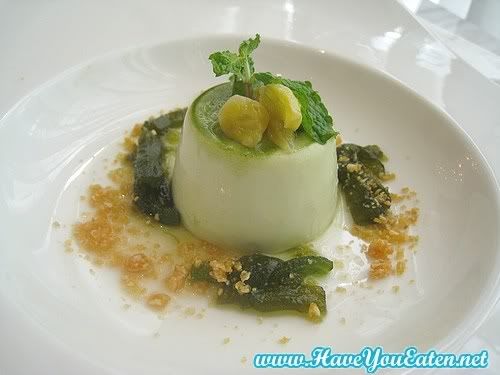 Ah dessert! Going with my light Asian theme, I opted for the Green Tea and Jasmine parfait with caramalized long gourd and almond praline. It was sweet with a delicate hint of green tea and jasmine tea. Eaten with the almond pralines, it was absolutely delicious! I'm not one for dessert much, but even then I managed to down most of it.
The prices of food at the C. Club at Pavilion Kuala Lumpur is rather on the pricey side. Main course prices range from RM35-60. However, they do a 2 course set lunch for RM39++ and 3 course for RM49++ which I thought was pretty decent if you'd like to try the food here or are in the area.
The C. Club is on the 6th Floor of the Pavilion Kuala Lumpur shopping mall.