To round off the Hari Raya festivities, I thought I'd mention the Open House which is a Malaysian cultural affair during festive seasons. Very appropriate for this post to appear just before the Deepavali festivities too.
An Open House is essentially, opening your house to your visitors. Visitors (usually friends) are welcomed with cookies and traditional delights and as is normal, a spread of delicious food – sometimes homecooked, sometimes catered depending on the crowds.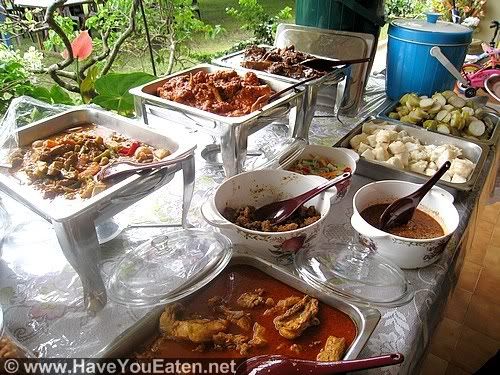 This is an example of an Open House spread in a person's home. Part of the spread was catered while the other part was cooked by the family.
It being Hari Raya, a wonderful display of traditional Malay food was placed for us to sample – Ketupat, Lemang, rendang, curries the spread was awesome.
What is also nice is that at the festives times of the year is when cultural and racial differences are put aside for a few days for everyone to enjoy each other's company and food. Dignitaries usually have open houses which are open to the general public. Anyone can walk in and partake of the spread of food on offer without qualms. Everyone, from the common person to the Prime Minister of Malaysia takes part in this very Malaysian culture of the Open House.
I cannot see it happening anywhere in the world where security surrounding dignitaries are tight, but in Malaysia for now, it is a culture that is going strong. I hope it remains that way because a country that eats together pretty much stays together