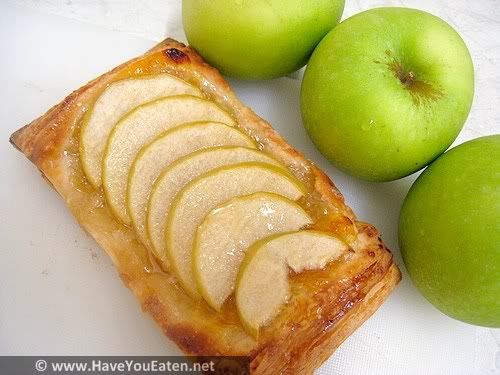 I'm not very good at baking and many of my baking experiments tend to end up burnt or awful failures or mere near successes. That is, until I worked on this really easy apple tart dessert! I love anything with apples in it, and an apple pie felt a little too heavy. So, I decided to make an apple tart or apple danish instead. I made it based on how I expected it to taste and what I thought would be nice and to my surprise, it turned out to be a resounding success! So, here's my really quick and easy Puff Pastry Apple Tart dessert.
You Need:
1 medium sized green apple
half a block of frozen puff pastry rolled out and cut into 3 sections
apricot conserve or jam
Sugar
Milk
Honey
How to:
Thaw the frozen puff pastry according to the directions on the pack then roll it out to about 2 cm thick. Cut into 3 or more sections depending on the size you want to make.
Preheat your oven to 220°C for about 15 minutes.
Core and halve the apple then slice the apple into thin slices.
Place the pastry on a lightly greased baking tray or baking sheet and sprinkle some sugar over it. With a pastry brush or your clean fingers, glaze the sides of the pastry with the milk.
Put it on the lower shelf of your oven and bake for about 10 minutes until the pastry has risen but has not started to brown
Remove pastry from the oven and place a dollop of apricot jam or apricot conserve on the pastry then layer the sliced apples on the top. Sprinkle some sugar over the apples then place it back in the oven for a further 10 minutes.
Bake until the pastry is risen and golden brown then remove from the oven and allow to cool slightly. Drizzle some honey over the top of the apple tart and serve warm by itself or with vanilla ice cream.
This apple tart is so easy to make you won't want to buy the commercial ones anymore after you try it! I made it in about half an hour from start to finish including cleaning up, so I now know what to bring the next time anyone invites me for a potluck party
I used apricot jam as the base to keep the tart moist. I suppose you could use custard too. The topping was honey because that was what I had on hand. Some people use gelatin or jelly but I find it too much trouble unless I'm making this for a party and need the presentation. I plan to try this tart with strawberries and use other fruits or combination of fruits soon. I'll update if I have anymore success stories to report.