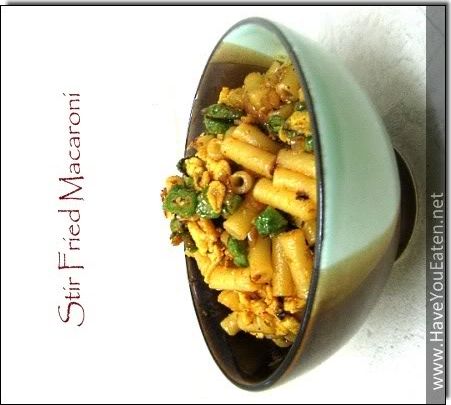 I was craving some hot fried rice one cool rainy evening and I had forgotten that I had run out of rice at home! Strange but true, in an Asian household. So, rooting around the larder, I noticed a forgotten bag of macaroni which I had bought, planning to make a macaroni cheese dish. On a whim, I figured it would make a decent substitute for rice so here is my really quick and easy recipe for a Stir-fried Spicy Macaroni.
You Need:
200g dried Macaroni
Some hard vegetables (beans, carrots etc) diced
20g Dried Shrimp (hei bee) soaked and roughly chopped or pounded
2 cloves of garlic chopped
1/2 a medium sized onion sliced
1/2 tablespoon of soy sauce or salt to taste
1 tablespoon of chilli sauce
Dash of pepper to taste
1 egg beaten and seasoned with soy sauce and pepper
Serves: 2-3 persons
How To:
Boil up water to cook the macaroni until al-dente.
In a frying pan or wok, heat up some oil and stir fry the garlic and onions until softened then add the dried shrimp and continue frying until fragrant.
Add the vegetables.
Move the mixture to one side of the pan and pour in the beaten egg, scrambling it as it cooks, then mix it through with the earlier mix.
Add in the cooked macaroni and mix through.
Add the salt or soy sauce and pepper to taste, and the chilli sauce.
If you prefer it drier, continue stir-frying until the mixture is dry the dish and serve hot.
Like fried rice, you can substitute any ingredient to taste. This dish came out tasting vaguely of mamak mee, which I think may just be it, if I add bean sprouts (tauge) and soy bean curd and yellow noodles