I'd just returned from my short holiday, in time to scrape through an entry for the $100 contest on Delicious Asian Food. Like Mother Hubbard, my cupboard was bare except for some fresh chicken legs in the freezer. So, I trawled through the Chicken archives and spied an easy recipe – Stewed Chicken in Dark Soy Sauce. I realised I had almost all the ingredients on hand so that would be my entry!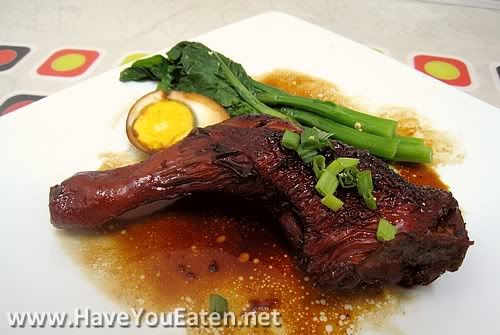 The recipe on Delicious Asian Food is slightly different from the one my mom makes but it is much simpler. One day I'll chronicle my mom's wonderful recipe which calls for more work than this! I prefer to call this  Braised Chicken in Dark Soy Sauce because I braised it instead of stewing.
You Need:
2 chicken legs (whole)
3 tablespoons sugar (I prefer 2 tablespoons only)
2 whole bulbs garlic (remove skin) (I kept the skin on and used one bulb)
Approximately 15 – 20 white peppercorns (or about 5 shakes of ground pepper)
Warm water
1 piece star-anise (optional)
2 hard-boiled eggs (optional)
2 to 3 tablespoons dark soya sauce
1/2 teaspoon of salt
Serves: 2-4 persons
How to:
Boil up your eggs and clean the chicken and get the ingredients ready.
Add sugar into a wok / saucepan which has been heated up. Let the sugar caramelise (turn liquid and brown). This happens faster than you imagine so have your chicken on hand!
Once the sugar is fully caramelised (it'll be a honey brown colour), add chicken legs (carefully!) and let it "sear" for 1 minute on each side. I left mine longer because I liked the "burnt" bits the sugar left on the chicken.
Add water to cover the chicken by 1 to 2 cm. Add the rest of the ingredients and seasoning.
Once water begins to boil, reduce to medium low heat, cover lid and let it simmer for 30 minutes to an hour.
Stir occasionally so the chicken and eggs brown evenly on all sides. You will find the sauce will start to thicken slightly and when the garlic softens, crush it up lightly with the back of your spatula.
To serve, separate gravy from the rest of the ingredients. Chop the chicken to desired size and half the eggs.
Serve with hot rice or in my case, noodles.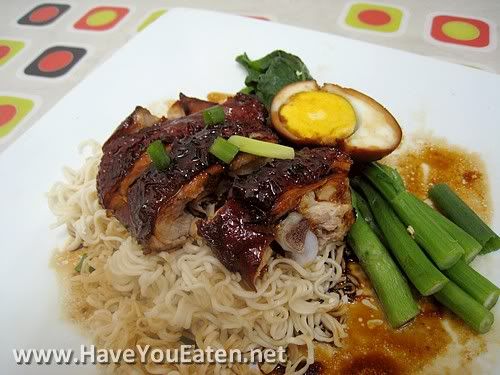 I followed the recipe to the T but I found 3 tablespoons of sugar a little too sweet. Next time I will cut it down to 2. However this is a matter of personal preference and taste. After allowing the chicken to braise though, you will find that the sweetness of the sugar becomes less prominent, especially when the garlic starts to soften.
I like my food garlicky, so I crushed the garlic up after they had softened to add a robustness to the sauce and to the dish in general. Garlic is pungent but when braised and softened, it is incredibly sweet and flavorsome!
I served my braised chicken chopped on top of instant noodles. I mixed the sauce from the chicken through it for flavour and blanched some vegetables for fibre and added half an egg to the dish. 2 chicken legs, served this way can feed about 3-4 persons easily.
Try it! Its the easiest soy sauce chicken recipe I've ever followed!