Being Chinese, I enjoy my bowl of herbal soup now and again. But I don't always have the time to boil it when I get back from work because a good soup would need at least an hour of boiling for the herbs to truly release their flavour. So, when I discovered this stall selling steamed healthy soups, I was thrilled.
The stall is located opposite Shaw Parade in Pudu Kuala Lumpur. It is under a big tree opposite a hair dressing salon and parking is in a word, hell! Everyone double parks so you might want to follow suit but keep an eye out for your car.
This is what you can expect here at this stall. The soups are steamed, not boiled, in individual bowls and are kept hot in a steamer. You can ask what they have and they will rattle off a list of soups on their menu including old cucumber soup, ginseng root soup, watercress soup, lotus root soup, squirrel soup, monitor lizard soup, pig brain soup, terrapin soup and their signature herbal chicken soup in a coconut. I usually avoid all the exotic soups and stick to those I know.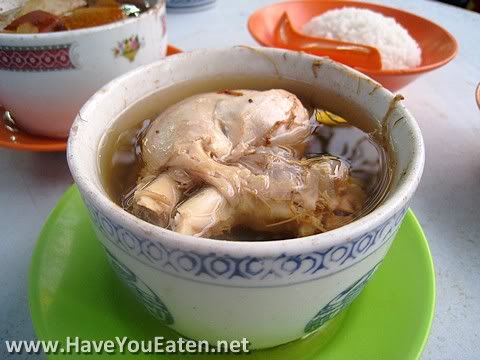 Ginseng Root Soup

Old Cucumber Soup
I like their soups because it is authentic. Not watered down versions like some places I have been to. The soup is thick and you don't get thirsty afterwards. The bowl is also chockful of meat, be it pork ribs or chicken meat, and herbs. They are generous with their red dates which adds to the sweetness of the soups and which makes it delicious. A bowl of soup isn't cheap though, ranging from RM4.50 upwards but I think its absolutely worth it.
You can have the soups with rice and other braised meats. They have braised chicken with ginger, mui choi kau yoke (braised meat with preserved vegetable), wild boar curry, braised chicken feet and a couple more I might have forgotten.

Mui Choi Kau Yoke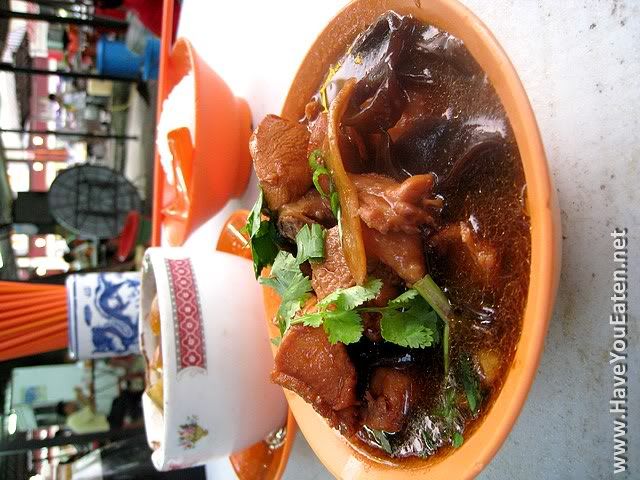 Braised Chicken with ginger
The stall starts business from 4pm till about 10pm or until the food finishes. Usually, when I get there between 7-8pm the more popular soups like lotus root, watercress and old cucumber would have sold out. Their coconut chicken soup is very high in demand so that sells out quickly too. If you want to give this place a shot, go early, about 6-7pm. As I said before, parking is horrendous so expect to have to double park and to have to move your car in a heartbeat.
A meal with 2 soups, 1 braised meat and 1 bowl of rice usually costs about RM16 or so. Fairly reasonable I figured for saving me the trouble and for a quick and fairly healthy meal. Sometimes, I have the pan mee which shares a symbiotic relationship with this stall, but that will be featured another day!
Pink Parisian [rating:5/5] for taste
Pink Parisian [rating:4/5] for price
Pink Parisian [rating:1/5] for ease of parking