I first tasted a proper good tasting Dragon Fruit or Pitaya during a trip to Vietnam. It was an eye opener to me, because my previous experiences with the Dragonfruit were not very good ones as they tasted bland. At the time, the dragon fruit was not a popular fruit in Malaysia. To my surprise, a dragon fruit can taste sweet too!
These days, it is no longer uncommon to find the Dragon fruit in Malaysia and in fact, it is being planted here to meet local demand. There are 2 varieties of the Dragon Fruit – the white flesh and the red flesh varieties. The differences in taste is subtle but I find that the red dragon fruit generally tastes sweeter and has better flavour.
According to Wikipedia, this fruit is also known as pitahaya, dragon fruit,  lóng zhu guo ("dragon pearl fruit"), strawberry pear, nanettikafruit, or thanh long. I just call it the dragon fruit, called perhaps, due to the skin which looks like the scales of a dragon.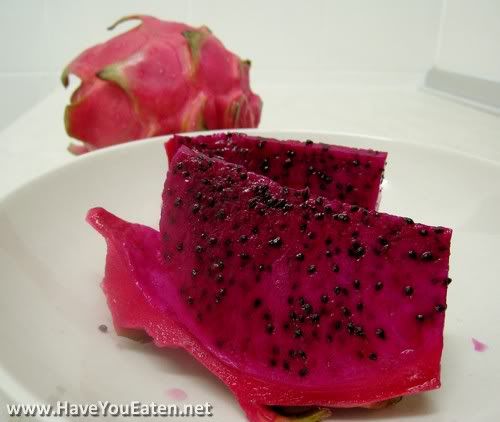 Eating it is simple. Just slice the fruit into slices and then peel off the skin. You will find that it peels off very easily. The flesh is soft and is rather like that of a kiwi fruit. The seeds are prevalent but you eat them just as you would a raspberry or kiwi fruit.
When you first try it, you may find that the flesh tastes bland. However, if you eat it often you will realise that it has a a slight sweetish flavour that is very subtle. It is best eaten chilled as that truly enhances its flavour.
The Pitaya or Dragon Fruit is very rich in Vitamin C and in enzymes, which makes it a prime candidate for making a fruit enzyme drink. I will detail the steps in an upcoming post. It is really easy and its good for you! Also, check out this recipe for dragon fruit jelly – easy and delicious!
Just one word of warning. The juice of the red fleshed pitaya tends to stain, so do be careful when cutting into it, and if you eat too much, you might find that your toilet bowl may look slightly gory. Just fruit colouring, nothing to worry about