Chinese Rice Wine is made from fermenting glutinous rice (pulut). This rice wine is then used variously for cooking and drinking. I only ever use it to cook with and a firm favourite is Ang Chiew Kuay Mee Suah or Rice Wine Chicken with Vermicelli. This is a traditional Chinese favourite and is also commonly cooked for women who are undergoing confinement after birth.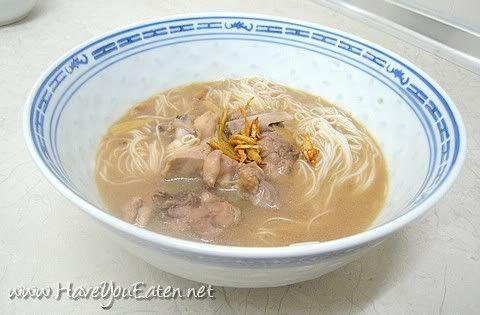 This is my quick and easy recipe for cooking Ang Chiew Kuay Mee Suah (Rice Wine Chicken with Vermicelli) as taught to me by my grandma.
What you need:
Rice Wine preferably "ang chiew" or red rice wine
2 Chicken Legs chopped into small pieces
A sizable piece of old ginger sliced into strips
2 pieces of Rice Vermicelli (Mee Suah)
2 tbsp of Sesame Oil
1 tbsp of Shaoxing Chiu
Oyster sauce
Soy sauce
Black fungus (optional)
Serves: 2 persons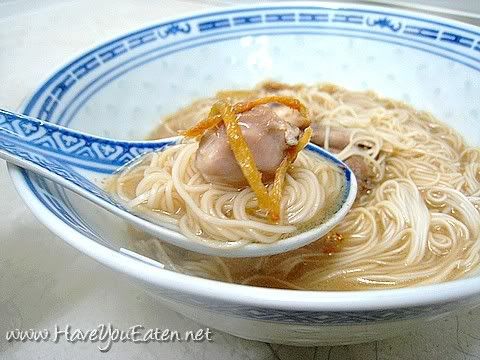 How to cook the rice wine chicken:
Marinade the chicken pieces with the oyster sauce, soy sauce and a bit of pepper for at least half an hour.
Heat the sesame oil in a wok or pan. When hot, fry the ginger strips until they are fragrant and crispy but don't burn them! Set aside a little to garnish.
Add the marinated chicken pieces to the ginger and stir fry to brown the chicken pieces. If you are using black fungus you will add it at this point.
When chicken is browned (The meat is opaque and brown in parts) add some water to cover the chicken and cover the wok/pan. Bring to a boil then let it simmer for about 10-15 minutes.
Taste and add salt or soy sauce to taste.
When chicken is cooked, add about 1/4 of a bottle of the rice wine and 1 tbsp of Shaoxing Chiu.
Stir quickly through and turn off the fire.
Cook the Vermicelli noodles:
Wash the mee suah pieces in a bowl of cold water to remove the starch.
Boil up water separately in a pot and add the mee suah pieces when the water is boiling.
Using a pair of chopsticks, separate the noodles as they cook so they don't lump together.
Bring water to a boil for about 2 minutes then turn off and pour away the water.
To assemble your rice wine chicken noodles:-
Place the vermicelli in a bowl.
Ladle the chicken pieces and soup over the noodles.
Garnish with the ginger slices you set aside earlier.
Serve immediately.
If you are wondering why my soup isn't red, it is because I did not use the red wine sediment. If you add the red wine sediment, reduce the amount of wine used because it will be too strong tasting otherwise. Adding some Shaoxing Chiu adds some sweetness to the dish as this wine is sweeter in taste.
After you add the wine to the chicken, do not boil up any further or the alcohol will evaporate and the dish will not taste as good. Here's a picture of the wine I used. I bought it from a shop that sells this rice wine noodle dish. It is way too expensive to eat it outside, and cooking it is so easy and quick.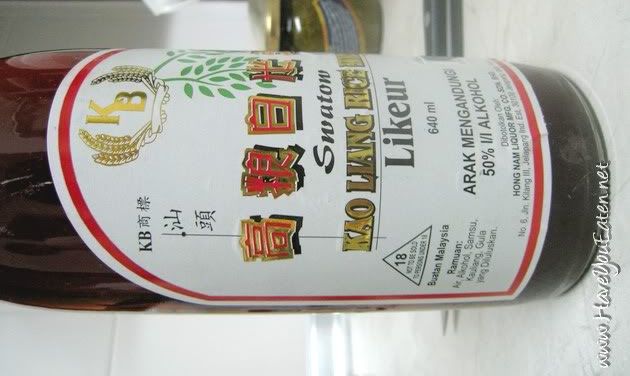 The best rice wine are those made traditionally and sold in smaller grocery stores. Its not as easy finding it in the supermarkets so your best bet is to look in a small Chinese grocery shop or kedai runcit! For those overseas, I'm not sure where you can get this, but I think any Chinese supermarket should stock a bottle or two.
This is going to be my entry for Babe KL's Merdeka Open House. If you try cooking this dish, let me know how it turns out for you!