I'd been hearing a lot about Shihlin Taiwan Street Snacks for a while, and whenever I passed by their booths, I'd be taken in with the promise of XXL Fried Chicken and Oyster Mee Sua (rice vermicelli with oysters). One day, I bit the bullet and paid a visit to the Shihlin Taiwan Street Snacks booth at The Gardens Midvalley Megamall.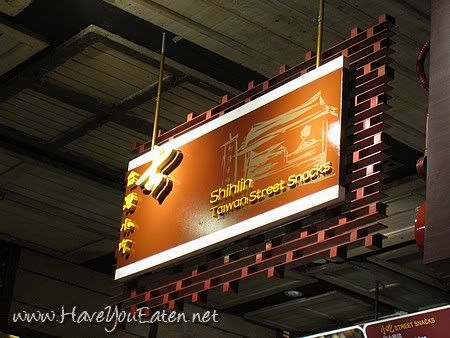 I bet you didn't know that Shihlin Market is a night market in Taipei, Taiwan! Well, I didn't either until I looked it up. The food served at Shihlin Taiwan Street Snacks are supposed to represent the street food found in Taiwan but not having been to Taiwan I can't tell you how authentic it is. Also, the idea of "street snacks" in a mall is weird but I guess it makes it accessible to everyone all year round. Anyway, enough about history, onto the food!
The specialty is of course, the Handmade Oyster Mee Sua (Rice Vermicelli with oysters). Look at the succulent plump oysters that you are served!
The rice vermicelli (Mee Sua) is cooked in a special soup stock which is both flavoursome and thick. When you order this, the server will dish out the noodles from a pot that is kept warm, and then add on some shredded chicken and 2 large oysters. Granted, the bowl is only of a medium size, which would be sufficient for small eaters, but if you prefer something more substantial, then you would likely have to add something else on from the menu. That said, this is supposed to be a snack so it isn't all that filling! A bowl of the Oyster Mee Sua is RM6.
Special mention must be made of the chilli served with the noodles. I liked having it stirred into the soup which adds spiciness and a bit of a kick to it. I also liked having more by the side – yes I like spicy food and the chilli is awesome! I have it with practically everything I eat at Shihlin Taiwan Street Food!
The other noteworthy mention is of course the XXL Fried Chicken. I'd had it before by itself but this time, I opted to have it as part of the Happy! Ricebox Bento. I find that this one is a filling meal all by itself!
The Happy Ricebox comes with a plate of Japanese sticky rice, 3 round pieces of tofu with century egg and drizzled with sweet-salty sauce, and a piece of XXL Fried Chicken. For RM9 with a drink (either bottled water or soy bean) it is really worth it! I must say this however, when I had it at MidValley Megamall, I was served a whole piece of XXL Fried Chicken – it was practically spilling off the plate! 2 could share this with no problems. However, when I had this same dish at Ikano Power Centre 2 weeks later, I only got 1/2 a piece of chicken. I'm not sure if its an outlet thing or if its a store policy but I was sorely disappointed and not to say a little cheated.
Anyway, the XXL Fried Chicken is essentially a chicken chop dipped in batter and deep fried. The batter is crunchy and it is served hot – only fried when you order. And then pepper and chilli powder is shaken over it. It is served unchopped so eating it can be a bit unwieldly. No matter how its served in Taiwan, I'd prefer that it be cut into bite size pieces here, so it is easier to eat. The chicken is nice, but I've had others compare it to Uncle Bob or any manner of fried chicken served at pasar malams (night markets) so maybe it isn't all that special anymore.
I'm not a tofu eater, but even I was happy to eat the tofu served because of the lovely sauce and the century egg. I don't normally eat either but eaten with the rice, it was really nice!
I did not find the prices at Shihlin Taiwan Street Snacks bank breaking. In fact, if they keep the portion of the Happy! Ricebox set that I had in The Gardens, I'd happily say that RM9 is a good price to pay for rice, tofu, chicken and a drink! But if they shrink it, then it gets too expensive and I'd just skip it altogether.
You can read about Shihlin Taiwan Street Snacks on their website and find the locations here. There's even a branch opening up in Penang soon, so Penang foodies might want to give this a shot when it gets there!
Pink Parisian [rating:4/5] for taste.
Pink Parisian [rating:3.5/5] for price.