I was at The Gardens at Midvalley recently, when hunger pangs hit. I felt like a spot of Japanese, but did not want to go to our usual Japanese favourite – Sushi Zen restaurant. Then, I remembered the Two Superheroes' post about another Japanese restaurant – Sushi Zanmai and I knew I had to hunt this one out.
Sushi Zanmai is located on the 3rd Floor of The Gardens at MidValley. It looks quite unobtrusive from the outside. You see a kaiten going around with plates of food on them, and its easy to think "Oh, not ANOTHER fast food Japanese restaurant!".
On the day I was there (Friday) it was busy and there appeared to be no places to sit. However, looks are deceiving, because the inside of the restaurant is quite spacious with tables around the kaiten belt, and also private rooms for larger parties and booths around the side of the restaurant.
After being seated, I scanned the menu and suddenly, I felt a sense of deja vu.
Somehow, the menu reminded me of Sushi Zen! I just did a quick search and voila! my suspicions were proven true when I found out that Sushi Zen and Sushi Zanmai are owned by the same people. No wonder the food so familiar. Suzhi Zen is like an express Japanese counter while Sushi Zanmai is more of a restaurant.
I must say that the environment in the restaurant felt rather chaotic. It was very warm and as all the tables were full, waiters were rushing all over and it generally felt quite uncomfortable. I would prefer if the air-conditioning was turned down cooler. It would definitely make for a more comfortable eating experience. But, since I was already there esconced at a table, I had to try the food.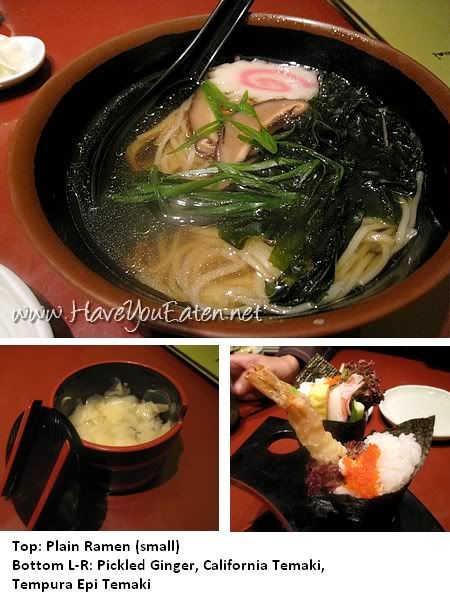 Being seated away from the Kaiten (conveyor belt), we placed our orders from the menu. We had a California Temaki (RM4.80) (hand rolls) and Tempura Ebi (prawn) Temaki (RM3.80) to start with. The temaki were made very fresh but I felt that the rice was either too warm or the tempura too hot when the rolls were made because by the time they got to us, they were soft and soggy. Or maybe they had been sitting for a while before being delivered. Temaki requires nice crispy seaweed and soft chewy seaweed just doesn't quite do it. Taste wise, it was nice. But otherwise, they could do better.
The Plain Shoyu Ramen (RM6.80) is a worthy mention though.  Although plain with some seaweed, fish cake and mushrooms in it, it was flavoursome and the noodles were cooked just right. We ordered the small portion (it comes in Small or Regular) and it was a just nice size for a taster as opposed to a meal. If you are a small eater, it would be just nice for you.
Next, we had the Soft Shell Crab Maki (RM6)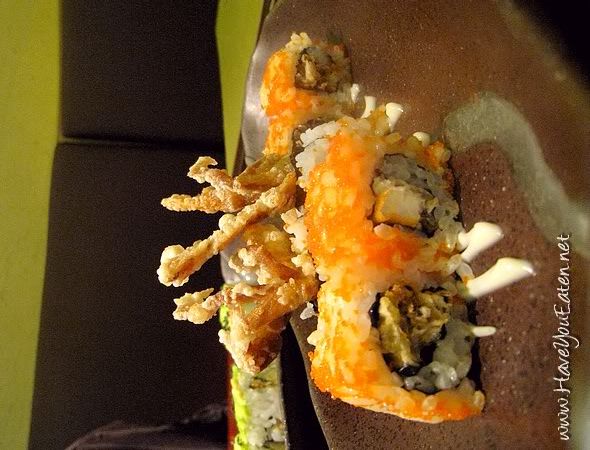 A rice roll with deep fried soft shell crab in it. I could tell it was freshly made so it was nice with a dash of wasabi and soy sauce. I did find the rice a little too soft (maybe it was not compact enough) but taste wise it was pretty good.
I then ordered an Inari Tuna Salad (RM3.80) which is something I like to have at Japanese sushi restaurants.
The sweet chilled beancurd skins (Inari) are stuffed with rice and topped off with tuna salad. Unlike places like Sushi King or Genki Sushi, the tuna was not slathered with mayonnaise so it was not cloying. The cucumber slices in it added a nice crunch and freshness.
Another worthy recommendation is the Gyu Enoki Roll  (RM12.80).
Golden Mushrooms or Enoki Mushrooms are rolled up in thin slices of beef (gyu) and braised in a butter based sauce. It was quite expensive, but I liked it.
Lastly, as it was unagi (river eel) season, I ordered a Caterpillar Roll (Promo Price RM11.80).
The grilled unagi is rolled with tamago (egg) omelette in rice and topped off with thin slices of avocado. You get 6 pieces which is pretty substantial coming at the end of the meal!
Overall, I found the food tasty and prices were reasonable as portions were pretty substantial. However, I do have a complaint. Service is really slow.
It took a good 10 minutes before our first order arrived at the table and by then I was starving. They also send out the orders as and when they are made which means you end up having a "course" style meal, with sometimes long breaks in between dishes. If you are sitting at the conveyor belt, it wouldn't be so much of an issue because you can just reach out and pick what you want from the belt. However, if you are sitting away from the belt, they make your maki and sushi fresh (good) but it takes forever to get to you (bad).
So, I'd say Sushi Zanmai is worth a visit but not if you are hungry. Did that make sense?
Pink Parisian [rating:4/5] for food and price
Pink Parisian [rating:3/5] for ambianceÂ
SUSHI ZANMAI
T-217, Third Floor, The Gardens,
Mid Valley City,
Lingkaran Syed Putra,
59200 KL.
TEL 03 – 2282 1160
FAX 03 – 2282 3160
MOBILE 012 – 702 1160
DAILY BUSINESS HOURS
10.00 am – 10.00 pm