When I was first approached by Andrea (of Coca) to visit Coca Restaurants I was a little sceptical, because my memory of Coca was their steamboats and I wasn't quite sure just how exciting a steamboat (hot pot) would be. However, I gave in to her persistence and I'm glad I did because I've discovered that Coca Restaurants is not just about the steamboat, they have an extensive ala carte and set menu of (mostly) Thai-style food too.
Coca Restaurants is presently found in 2 locations, both in the Klang Valley for now. One is in Subang Parade in Subang and the other is in 1 Utama shopping centre in Bandar Utama. There were 2 others in Bangar Shopping Centre and KL Plaza but Coca has since pulled out of both those shopping centres. There is talk of opening another in Kuala Lumpur soon, so we'll have to wait for that one. I'm told it will be quite an exciting concept.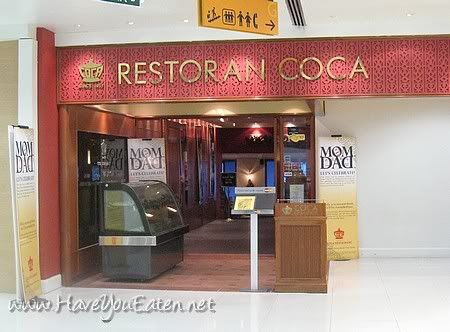 Anyway, I dropped by the Coca Restaurant in Subang Parade one evening for dinner. The Coca Restaurant in Subang Parade is located a few doors away from Parkson department store and a short walk up from Friday's. You can't miss the entrance. It looks small from the outside but once inside, it is large and there are many tables of different sizes to fit any group size. I'm told that on week days, they average 8-10 tables and weekends are very busy. So, you might like to make a reservation if you plan to visit on a weekend.
Coca Restaurant is first and foremost a very comfortable steamboat restaurant. On week days, they have a buffet steamboat menu where for RM58++ an adult you can eat all you can from a set menu. There was a private function on the day I was there and I supposed the group of young people were making full use of the steamboat buffet. You can also order additional food and drinks from a separate ala carte menu. This post is picture heavy so be duly warned!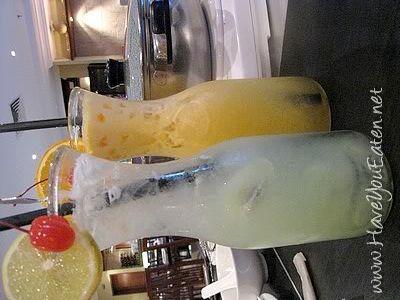 We had a freshly squeezed Orange juice and Soursop juice, both of which came as chef recommendations. A glass of freshly squeezed juice is RM12.90 but the size of the glass shocked me when it came to the table. It was huge! The juices are served in a large 1 litre glass carafe and are truly freshly juiced. You can hear the juicer going even as your order goes in. I highly recommend the Soursop juice for the sour-sweet taste which whets your appetite and cools you down from all the firey and spicy food you will be eating. There is lots of fruit pulp at the bottom of the glass which you can reach for with a very unique spoon-fork contraption given to you. Its a spoon on one end and a fork on the other. Truly unique!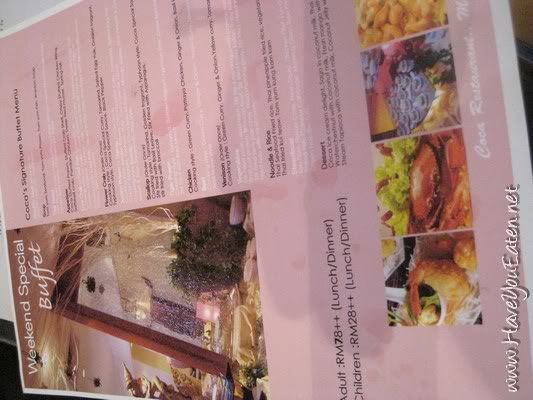 We were having the Coca Special Weekend buffet menu at RM78++ per adult. In addition to a steamboat, you get to choose from a set menu of cooked food ranging from cod fish, sharksfin soup, venison, chicken, vegetables and fish cooked in the style of your choice from the menu. It was a very extensive menu and you can order certain dishes repeatedly but some (like Sharksfin soup, crabs or cod) can only be ordered once.
The steamboat was already on the table and you are given the choice of just chicken soup base (stock) or half a pot of chicken soup base and half a pot of tom yam soup base. I opted for the latter so I get to try both styles of soup. I'm glad I did because the tom yam soup base was delicious! There was a strong taste of lemongrass and basil but it was not overpowering, and it was not too spicy which suited some of us at the table. It was a little sweet but still tasty. The meats and vegetables cooked in it came out tasting very nice.
The clear soup base on the other hand was a little too salty for my tastes as it was for the rest of the table so most of us kept to the tom yam soup.
The raw food selection for the steamboat is quite wide. You cook it yourself, but the waiters will help empty the plates of meats and vegetables into the soup for you to get you started. A specialty at Coca Restaurants is the fish paste which I am told is freshly made from tenggiri (mackarel) fish. It comes flat on a plate and is sliced by the waiter into large rough sheets which is then cooked in the boiling water. It was very springy and tasty and truly deserves to be a Coca specialty.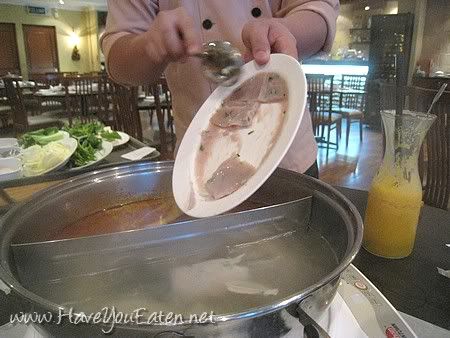 I don't eat much tofu but I was assured that the tofu was exceptionally good – smooth and flavoursome.
But everyone already knows about Coca Restaurant's steamboat. What you really want to know is how is their other Thai style cooked food? Here's a sampling of the food we had.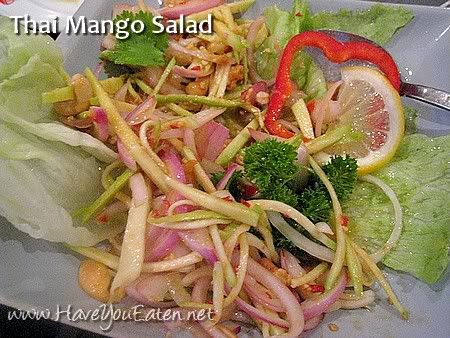 The Thai mango salad (Kerabu Mango) (RM15.80) is a must have. Consisting of thinly sliced young mango, raw onions and tossed with fish sauce dried shrimp and spicy chilly topped with toasted cashew nuts, it deserves its "Appetizer" title. Thumbs up!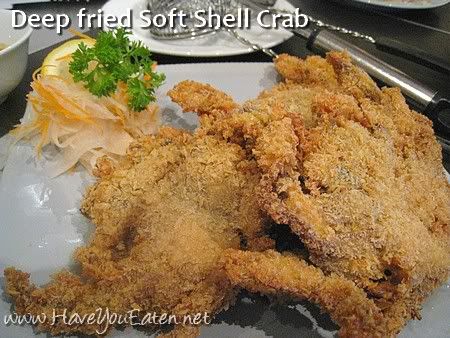 The Soft Shell Crab (RM9 each) is also worth trying. I was expecting the usual tempura style deep fried soft shell crabs at Japanese restaurants, so I was surprised when the soft shell crabs were served. They are breaded with spiced flour and breadcrumbs and deep fried. The most unique thing is that the crabs are flat. It makes the crab very crunchy.
For fish, we had Mango Siakap (seabass) (market price) which was fried siakap fish with Thai mango dressing. It turned out to be fried fish topped with the mango salad we had just eaten earlier! Not that we were complaining because it means more salad to have! The fish is deboned and the slices are fried then everything is assembled together again to look like a whole fish.
A firm crowd favourite was the Prawns in Typhoon sauce (market price). The prawns were large and fresh and fried with the shell on. Then, it is tossed in a sweet, spicy and slightly tangy sauce that really whets the appetite. It is wonderful with hot plain white rice.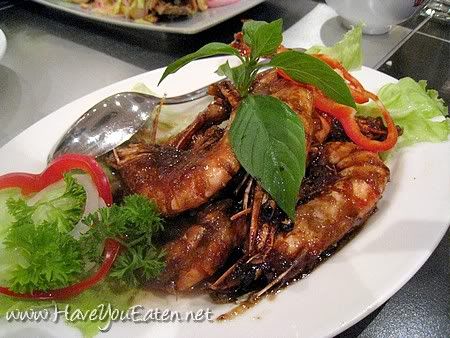 The Prawns in Black Pepper sauce were less popular next to the one in Typhoon sauce, although they were also good.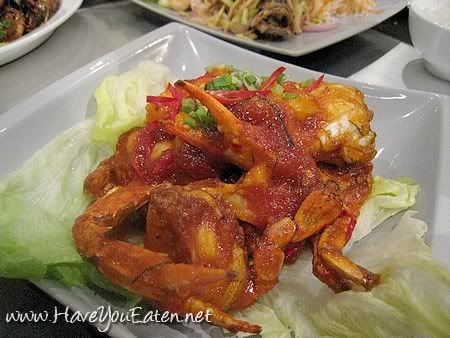 We also had Flower Crab in Coca Special sauce. Flower Crab has a softer shell and is a lot cheaper than live meat crabs. It is also generally less tasty although sometimes you do get lucky. The Coca Special Sauce is very tasty, with a mix of spicy, sweet and tangy. There was a hint of tamarind and lemongrass in it and pineapples too. Of course, they wouldn't divulge the ingredients. Its a trade secret after all!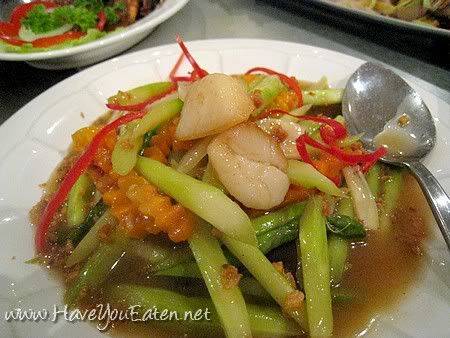 For vegetables, we had Stirfried Asparagus with Scallops (RM32.80). Our asparagus that day was a little woody, everyone agreed. Otherwise, it was tasty, with quite generous helpings of fresh stirfried scallops.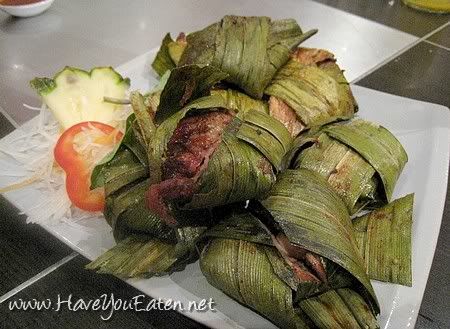 What would a Thai Restaurant review be without a taste of Pandan Chicken (RM8.80 for 2)? This is chicken meat marinated with spices and lemongrass and then wrapped up in pandan (screwpine) leaves which impart a fragrant flavour to the meat. The pieces are then deep fried in hot oil and served hot. The table roundly gave the Pandan Chicken at Coca the thumbs up!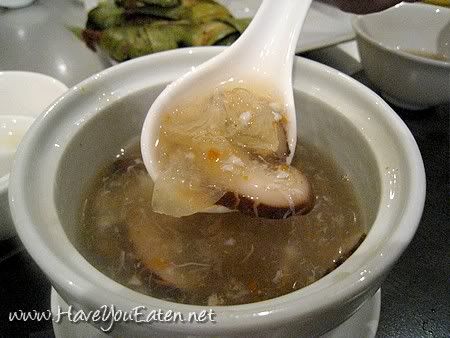 We also ordered a bowl of sharksfin and seafood soup which was one of their specialities. I know many people don't agree with this practice so maybe just skip this part and go on reading below for the other food we had
The soup is not starchy and has a lot of mushrooms and seafood, including fish maw, I was told; so the taste is a little strong. It is something of an acquired taste and totally unlike what you might be used to elsewhere.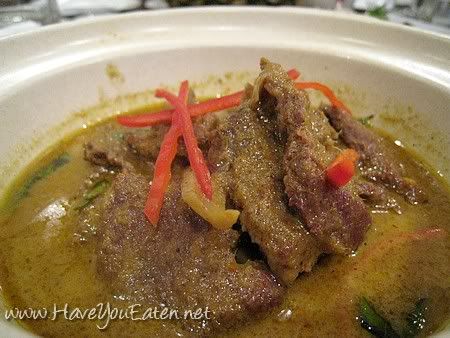 Venison in Yellow Curry came next. I am told that Coca tries to practice healthy cooking in their restaurants, so they only use vegetable oil in their kitchens and substitute yogurt for coconut milk in their curries. This is not only healthier but makes the curry taste lighter too so you don't get sick of it so quickly. The yellow curry was nice as was the venison which did not taste as strong as what I'm used to. It tasted rather like beef in yellow curry.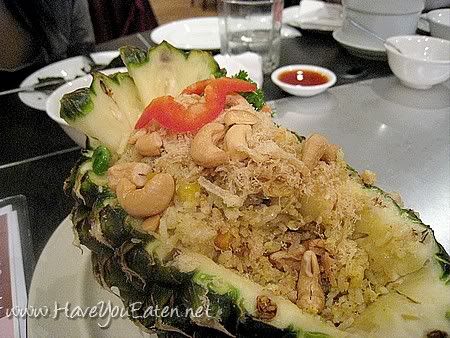 And finally, what is again a review of a Thai restaurant without mention of the Thai Pineapple Fried Rice (RM22)? This version of fried rice which is slightly sweet and fried with bits of pineapple, cashew nuts and vegetarian floss and is served in a hollowed out half pineapple. It was very tasty although I thought it a little sweet. Then again, as the rest of the table told me, Thai food is generally sweeter as they use a lot of sugar in cooking. This might also be due to the fact that the chef at Coca Restaurant is a true blue Thai chef and therefore more likely to cook in a style he is accustomed to.
At this stage, we were already stuffed to the gills! But we could not leave without trying some traditional Thai desserts. Unlike their food, Coca Restaurants keeps true to a proper Thai dessert recipe so coconut milk and sugar is used liberally.
We had the traditional dish of Fresh Mango with Sticky Glutinous Rice (Khao Niaow Ma Muang) (RM21.90). The cubed mango was fresh and sweet with the sweet tart taste of the mango. Thick coconut milk was drizzled over the glutinous rice which is eaten together with the mango. I requested for only half a portion because we were so full by then. Still, it was pretty large.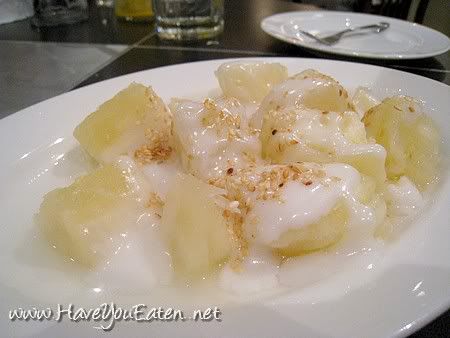 We also had Steamed Tapioca with Coconut Milk (RM10). The coconut milk is slightly sweetened and drizzled over steamed chunks of tapioca sprinkled with salt so it was quite an interesting mix of flavours on the tongue. I rather liked this one. Again, this was only half a standard portion.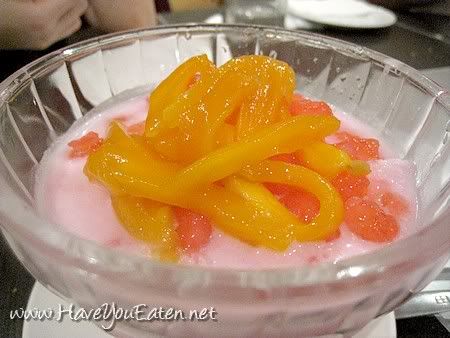 The last dessert we had was Water Chestnut in Sweet Coconut sauce served over Ice (Tab Tim Krob) (RM7.50). Of the 3 desserts we had, I probably liked this the most because it was quite refreshing after all the spiciness we had throughout the meal. The coconut sauce was light and the cold dessert went down well with crunchy water chestnut coated with red tapioca flour. The yellow slices on the top are sliced jackfruit (nangka) which adds to the piquancy of the dish.
I must issue a warning. Standard food portions were quite large. I had requested for it to be reduced but my request went in too late so we were served the full standard size portion and we found it huge. If you are dining in a group, it would be perfect. But for just 2 persons, you'd be hardpressed to fit in anything more than 3 dishes with rice! But hey, that would just be even more excuse to visit Coca again right?
I was told that the Coca Restaurant in Subang will soon feature a live seafood experience rather like that found in many seafood restaurants, so you can rest assured that the seafood served will be super fresh.
Coca Restaurants are Halal and are found at the following places:-
COCA Subang Parade
Lot G28, Level G, Subang Parade
5, Jalan SS16/1 Subang Jaya 47500 Petaling Jaya
Tel: 03 5632 8766 Fax: 03 5632 8767
COCA 1 Utama
Lot G38 & F40, 1 Utama Shopping Centre
1, Lebuh Bandar Utama, Bandar Utama 47800 Petaling Jaya
Tel: 03 7727 3180 Fax: 03 7728 2151