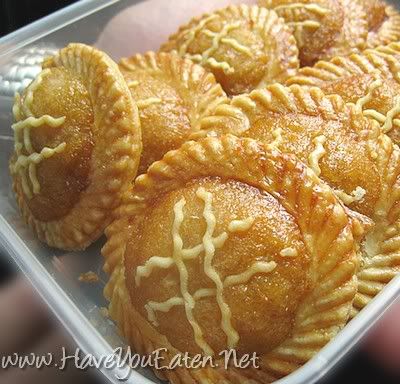 What is visiting Melaka (Malacca) without having some traditional Nyonya cookies? My favourite cookie of all is the Nyonya Pineapple Tart or what I call the "Open Pineapple Tarts"; so called because the jam is visible and placed in the middle of the pastry, instead of being rolled up inside the pastry. I call those "Pineapple Jam rolls"
Pineapple Tarts are common during Chinese New Year, but are now easily found at other times of the year. Pineapple Tarts are popular in Melaka as the Baba-Nyonya people there have popularized this cookie as one of their own, especially this style of "open tarts".
I bought a box of these pineapple tarts from a little stall for RM7 for 10. They are about 2″ in diameter and although the pineapple jam was nice, the pastry wasn't quite what I liked. Still, it was a nice little souvenir to take home from Melaka to my brother who loves these!