I love going to the Pasar Malam (Night Market) because there are always so many types of street food available that you don't normally find in coffee shops or stalls. I found this one at one of the biggest night markets in Kuala Lumpur which is held at Taman Connaught, in Cheras on Wednesday evenings.
This is Potato King fresh fried potato chips on a stick.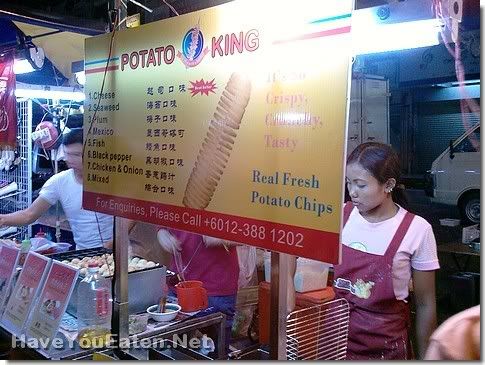 I was very intrigued to see it. They have about 8 different flavours and I was wondering what it was. It turned out that it was potato which is sliced and then threaded onto a stick and then deep fried to a crisp.
After frying and draining, the girl will ask you which flavour your prefer. She then places the stick of fried potato chips into a container and adds a powdered flavour of your choice, then shakes it up so it coats the potato chips evenly.
Here is a picture of what it looks like. The sliced potato is kept unbroken in a spiral and you eat it by breaking it off piece by piece from the stick. It is crispy and tastes just like real potato (because it is) and with the flavouring, it tastes just like the potato chips you buy in foil packets too.
I found it a bit too salty for my tastes but it makes a good novelty snack. For RM3.50 a stick, it is terribly pricey, but you wouldn't think so from the many people eating it. I reckon its found at other night markets too and its worth a try if you don't mind forking out that amount of money for what is essentially potato chips on a stick!